Rifle Deer Hunt Information
KANSAS WHITETAIL DEER
Fully-Guided Rifle Hunts @ Kansas Trophy Whitetails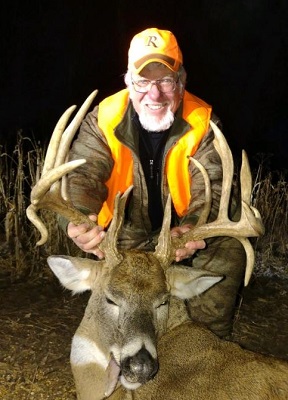 Gary Eubanks (AL) - Rifle 2020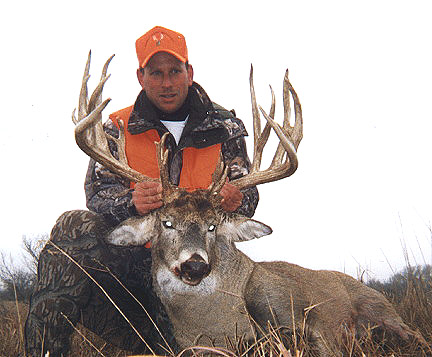 John Payne (PA) Rifle
#6 Non-typical B&C in Kansas
Biggest buck harvested in KS in 2003!
Our Deer Herd
The state of Kansas and its wildlife managers had the foresight decades ago to implement a plan that was the key to making Kansas the trophy hotspot it has come to be known as. Through strict managing of the deer harvest and superior genetics, along with the rich, productive soil of our native farmlands, Kansas has become a trophy hunter's prime destination. We at Kansas Trophy Whitetails take a very limited amount of hunters in any given year, and we strictly manage our thousands of acres of privately-owned ground to ensure our clients have the best hunting opportunities for trophy bucks.
Our Hunting Areas
We have prime land in Unit 8 of Northcentral Kansas. This unit has very little public hunting ground. We have leased some of the best hunting ground in our part of the state.
Our ground consists of creek bottoms and rolling farmland. The land has crops such as corn, soybeans, wheat, and alfalfa planted on it. We have hardwood timbers also, with several types of acorns that deer love.
How We Hunt
Our rifle hunts start out with our guides transporting their hunters to their assigned stands in the morning. We have either comfortable ladder stands or shooting towers placed in deer-travel corridors. Most of our hunters score off these stands. After lunch, it's back to the stand to finish the day out. This method of hunting all day, and hunting hard, has given us great success in putting our clients in front of some of the best trophy bucks Kansas has to offer.
What Kansas Trophy Whitetails Provides On Your Hunt
Leased private property.

Lodging.

Two homestyle meals and a light lunch each day.

A shooting tower and target range for sighting in your rifle after your trip.

Transportation from lodge to hunting grounds (if needed).

Treestands -- all comfortable and safe, located in prime areas.

Field-dressing and packing out game.

Meat handling. We will transport your deer to the local locker.

Taxidermist on site.

We will strive to give you a memorable & successful hunt.
What is Not Provided On Your Hunt
Licenses and tags.

Rifles, ammunition, etc.

Personal items such as clothing, etc.

A guarantee that you will harvest a deer.
Overall Details About Our Rifle Hunts
Our 5-day rifle hunts are fully-guided. We provide lodging, two homestyle meals and a light lunch each day, a shooting tower and target range for sighting in your rifle, transportation to hunting grounds (if needed), treestands, field-dressing and packing out game, meat handling -- transporting your deer to the locker, and a taxidermist on site. The cost for the hunt is $3500.00. All fees are for professional outfitter services only. A deposit of 50% of the cost of the hunt is required to hold your hunt dates, with the balance due 60 days prior to arrival. Deposits are non-refundable. In addition, you must purchase a Kansas hunting license ($97.50; or $42.50 for non-residents under 16) and apply during April 1-30 for a Kansas deer permit ($442.50; or $118.00 for non-residents under 16). Kansas deer permits are obtained through a drawing. If you were born after July 1, 1957, you must have a valid hunter's safety card in your possession. Tentative hunt dates are Dec. 1 - Dec. 12. (Dates subject to change by Kansas Department of Wildlife & Parks.)